PDF VersionRegisterMore Information
As Business Arrangements Become More Complex, Achieving Optimum Sustainable Performance Requires Flexibility, Adaptivity, and Increased Collaboration.
It is no secret that the many complex public–private and public-public business arrangements fall short of meeting stakeholder expectations. The single leading cause of failure is that complex, long term agreements are structured and managed as static transactions or deals, and therefore do not adapt well to change and evolution. By positioning the relationship among stakeholders at the heart of delivery, oversight and performance management, business arrangements are structured and managed as collaborative and adaptive system that drive change and achieve improved outcomes with lower risk.
This training program will provide you with an effective and systematic model for implementing ISO 44001 and managing complex relationships. As you progress through the program, you will gain the knowledge and skills to effectively plan, source, establish, and manage relationships that will deliver exceptional performance.  It will provide you with the tools to shift organizational mindset and to create a culture of collaboration and trust.
THE RELATIONAL MODEL – AN ISO STANDARD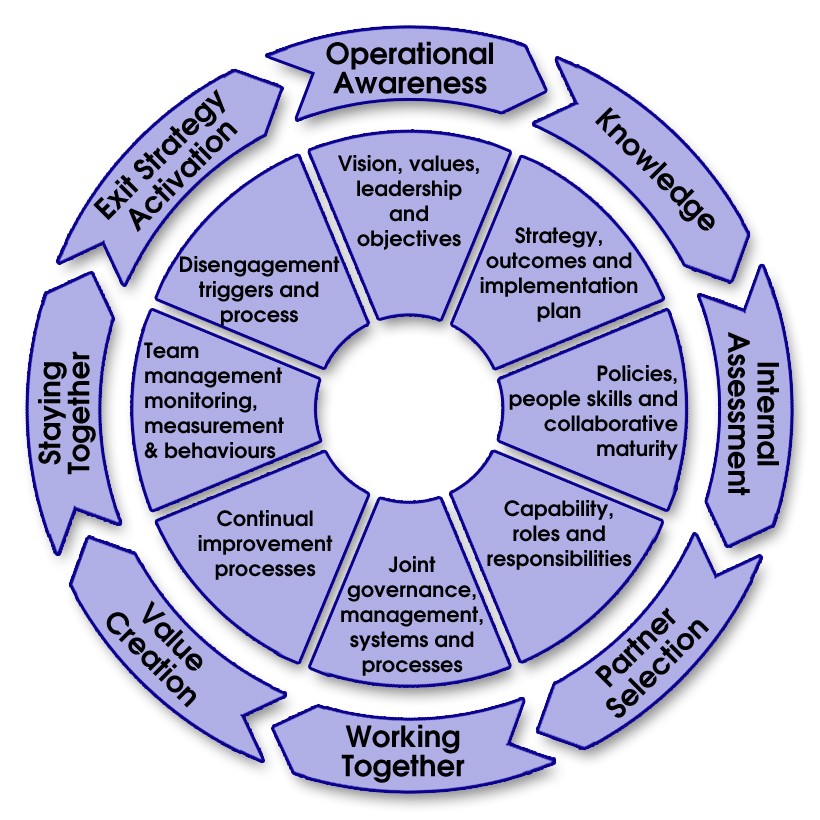 The Relational model of Management supports the development and management of an adaptive business relationship among partners, with whom collaboration and ongoing alignment is critical to achieving overarching common objectives. The Framework operationalizes ISO 44001, which was approved in Dec 2016 and published in early 2017, from the both perspectives of the internal policy and governance readiness to collaborate and in terms of establishing specific relationship management plans with strategic partners.
CERTIFICATION
A certification in Relationship Management,  Collaborative Working, and Relational Contracting is provided for those who complete the case work book and submit within 60 days of the course delivery, while achieving a minimum 80% passing mark.  A virtual collaborative workspace is provided for the teams to continue their work together to complete their submission.
WHO SHOULD ATTEND
This training program is recommended for public and private sector executives, relationship managers, procurement managers, outsourcing advisers, and managers involved in the planning, sourcing, negotiations or management of complex business arrangements.
DELIVERY FORMAT
This course is delivered over three days using a combination of 30-45 minutes lectures, followed by case work in small team formations and large group interactive dialogue. The course and workshops feature real life, current complex relationships in the public and private sector used as case work and model reference.
LEARNING OBJECTIVES
Gain insight into the issues and challenges associated with managing complex business relationships;
Understand the difference between individual relationships and relationship management as a system for outcome improvement;
Learn about the definitive framework for best practices relationship management – the ISO 44001 international standard;
Learn about Relationship Charters, Joint Governance and, collaborative competencies development systems;
Obtain the necessary tools to establish and operationalize relationships in order to ensure continuing alignment with management frameworks in diverse stakeholder environments;
Learn how to objectively assess relationship fit and partner capability, in relation to desired project/program outcomes;
Learn how to effectively construct and apply relational contract principles – how to plan, source and manage adaptive relationships that provide an ongoing opportunity to improve outcomes within a public sector procurement regime;
Learn how to form and activate high performing joint teams within a mutually shared environment of trust and collaboration;
Gain the ability to lead and facilitate collaborative engagements to operationalize ISO 44001 relationship management plans.
Develop the necessary capability to manage culture change and the transition of complex business arrangements.
COURSE OUTLINE
Provide an overview of the underlying root causes of underperforming complex business relationships. This includes a review of the key issues and challenges normally associated with long-term public private business arrangements, and inter-public sector relationships that result in failure, and how to either avoid or reverse them;
Provide a macro level view of Relationship Management. This includes a thorough review of the ISO 44001 Standard for Collaborative Business Relationships, and its impact on your organization and its relationships with both internal as well as external stakeholders;
Introduce a descriptive outline of the key elements of a best practice relationship management model, including the corresponding operational framework, both of which are based on proven collaborative methods and international standards;
Provide a maturity model pinned on key organizational enablers and collaborative competencies for assessing the effectiveness of your relationship or business arrangement management practices;
Provide a framework for establishing and operationalizing Relationship Management Frameworks in Public-Private, and Public-Public including arm's length relationships;
Provide a systematic model for Relational Contracting Management – road map and corresponding step by step process for planning and operationalizing Relationship Management and Collaborative Working best practices into your existing, as well as new business arrangements;
Provide a guidance framework for relationship performance management and its implementation.
AGENDA
DAY 1
Relationship Management Overview
A Macro level view of Relationship Management and ISO 44001
Complex Arrangements Overview, Challenges and Opportunities
Relationship-Based Management Frameworks
Relationship Management Framework Reference Model
Introduction to Collaborative, Relationship-Based Management Frameworks
Relationship Charter – Foundations of a  Collaborative Business Relationship
DAY 2
Implementation – Relationship Management Plans
ISO 44001 – Overview and Guidance
Developing & Operationalizing the Relationship Charter and Corporate Relationship Management Plans
Implementation  – Managing Relationships
Performance Management
Integrated Risk and Enablement Management
Information Sharing
Relationship Administration
DAY 3
Relational Contracting Management
Procurement of  Strategic Relationships in the Public and Private Sector
Strategic Analysis & Partner Selection Tools
Collaborative Competencies & Change Management
Interest-Based Problem Solving Approach
Creating a Culture of Collaboration and Trust
Managing the Change.
PDF VersionRegisterMore Information
LEAD FACILITATOR
Andy Akrouche
FACILITATORS
Monty Mukerji
Jon Hansen